A Look Inside Our Watershed
The Creek
Laguna Creek flows 25 miles across broad floodplains and terraces shaped over time by the ancestral American and Sacramento Rivers.  Historically, the creek was dry much of the year except after rain storms and in scattered deep pools.  Today, major sections of Laguna Creek and its tributary streams flow year-round due to agricultural and urban runoff during dry seasons and rainfall during wet seasons.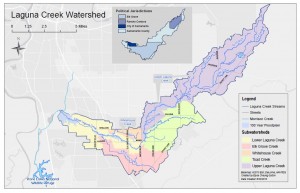 The Landscape and People
Laguna Creek meanders through what was originally vernal pool grassland prairie with scattered areas of Valley Oak savannah.  Plains Miwok people fished from the creek, and hunted and gathered other food from the surrounding land.  By the late 19th century, outside settlers began to farm the area, soon displacing most of the native people.  Crops, pasture and non-native grasses and weeds replaced the original creekside vegetation and grasslands.
In more recent times, urban development has dramatically changed the landscape, affecting the creeks and their habitat.  Creeks were moved in some places to make room for roads and houses and native creekside trees and plants were removed.  Pavement and roofs now prevent rain water from  soaking naturally into the ground, sending more runoff quickly into storm drains and down to the creeks, taking pollution with it and eroding natural creek beds and banks.
Today, the Laguna Creek Watershed Council and a growing number of community volunteers are taking action to conserve undeveloped portions of the watershed and restore or enhance damaged sections of the creek and its habitat for future generations to enjoy.
Explore Your Watershed
Stone Lakes National Wildlife Refuge, located in the lower reaches of the watershed, includes restored wetlands and other habitat types.  It's a great place to view migratory birds, heron and other wildlife,  Go to the refuge website for tour and  event information.
The Bufferlands include 2,500 acres of open space, separating Sacramento's Regional Wastewater Treatment Plant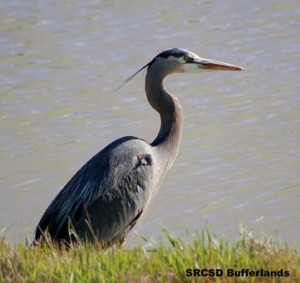 from its nearest neighbors.  It is home to a variety of native California landscapes, including ancient groves of Valley Oak.  Go to www.bufferlands.com for tour and event information.
The North Laguna Wildlife Area was established in the late 1980's and provides habitat for many wild animals, and flood protection to the neighborhoods along the creek.
The Fallbrook Reach has wide natural buffers that provide wildlife habitat in the heart of Elk Grove, California.  A popular spot for biking, walking and bird watching, the trail follows the creek for 3 miles from Jack Hill Park downstream to Camden Lakes.
The Vineyard Reach features open space along the creek, as well as a bike and equestrian trail accessible from Vineyard Road.  Currently one-mile long, the trail will continue another 1.5 miles to Calvine Road once the trail is extended.

The Upper Watershed is now largely undeveloped.  In its uppermost reaches, Laguna Creek is dry except after the winter rains, but still provides important habitat.  You can help determine what it will look like as it develops by participating in the Laguna Creek Watershed Council.