Vision for a Regional Trail System
Today's Laguna Creek Parkway is a system of existing and proposed trails envisioned to connect the Sacramento Levee trail system to the American River Parkway via the Laguna Creek corridor and the Folsom South Canal.
Currently, for Laguna Creek alone, discontinuous trail sections account for 6.75 of the 25 miles of creek. Similar situations exist with tributary creeks.  As discussed previously, the planning, construction and maintenance of the existing recreational trails and riparian corridor buffers was financed by requirements and assessments placed on new streamside development projects. As a result, existing trail sections have developed in piecemeal fashion, and not always in a manner that has balanced habitat, flood risk reduction, and water quality with the recreational and financial goals of the development. Connecting these fragments will be a challenge because there is no funding mechanism and grant programs are highly competitive.  An additional hurdle is property ownership.  Some sections of Laguna Creek and its tributaries are located on private property, and landowners may not grant public access through their land.
The City of Elk Grove, the Cosumnes CSD, and Southgate have Trails Master Plans that include conceptualized alignments for the remaining sections of the Laguna Creek Parkway. The Upper Laguna Creek Corridor Master Plan will propose additional details concerning trail alignments and riparian buffer characteristics for the Laguna Creek corridor upstream of Waterman Rd. Three proposed development projects (Cordova Hills, Sun Creek, and the Arboretum developments) in the uppermost reaches of the watershed have trail systems associated with their project designs that will connect to the Parkway at the Folsom South Canal, with the potential of connecting to the proposed Deer Creek Hills / Alder Creek trail systems to the east.
In the lower watershed, the City of Sacramento and the SRCSD Bufferlands are exploring trail alignment options that will continue the Laguna Creek Parkway west from its current terminus at Franklin Blvd., northwest through the Bufferlands, and west through the City of Sacramento's proposed Delta Shores development to the Sacramento Levee trail system.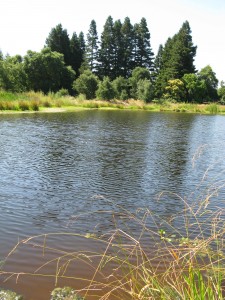 To connect existing trail sections, and to expand and complete the Laguna Creek Parkway, the LCWC recommends a watershed-wide, multi-faceted planning strategy for recreational trails that will require regional collaboration to incorporate Trails Master Plans developed by the City of Elk Grove (Elk Grove Trails Committee 2007), the Cosumnes Community Services District (CCSD), and Southgate Recreation and Parks District (Southgate), as well as the interests of streamside landowners and the various participants of the Upper Laguna Creek Collaborative (ULCC) planning process.
In addition to planning future reaches of the Laguna Creek Parkway, the development of future parks by the City of Elk Grove, the Cosumnes CSD, the City of Sacramento, and Southgate should include efforts to link spur trails from new parks and developments to the main Laguna Creek Parkway.