Volunteer for the Watershed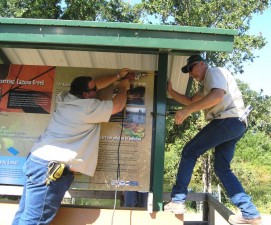 Our Watershed Stewards Program offers opportunities to the general public to explore watershed issues and foster community involvement. 
Student volunteers may also qualify for community service hours.
Service Learning
Help coordinate Service Learning programs with the EGUSD.  High school students can earn credit for participating in Community-based projects. We would like to focus some of this energy on the creeks and watershed education. The watershed council needs help organizing and coordinating this effort.
Creek Walks
The Creek Walk program is an environmental education program for young children.  LCWC needs help updating the curriculum as well as working with other community organizations to do outreach and lead 1 – 2 hour walks along the creek with pre-schoolers.
Community Event Booths
LCWC members staff booths at many community events to distribute outreach materials and engage interested passers-by in discussions of the natural history of the Laguna Creek Watershed. The LCWC has staffed booths at the Elk Grove Harvest Festival, Elk Grove Creek Week, Sheldon Heritage Days, and Walk on the Wildside events.
Adopt-a-Reach
One of the LCWC's ongoing goals is to identify and recruit community groups to adopt sections of their local creeks; adopting a creek section involves regularly performing acts of stewardship along a specified reach. Local scout groups have adopted portions of Laguna Creek and Elk Grove Creek, and members of local neighborhood associations regularly help with Creek Week activities along their local reaches.
Tree Planting Projects
The tree planting events described in the Watershed Education Program were also open to the public. In addition to student participants, residents of all ages have participated.
---

If you would like volunteer to help the Laguna Creek Watershed, please use the form below and we will contact you with more information.   Besides the projects listed above, we need assistance with Administration, Fundraising, Grant Writing, Monitoring and Reporting on Creek Conditions with Photo Documentation, and Invasive Plant Removal.
Check out our Event Calendar for Involvement Opportunities in the Sacramento Region