Creek Care
Everyone living in the Laguna Creek watershed has the opportunity to care for the creek.  Whether your house or business backs up to Laguna Creek or one of its tributaries or you are 2 miles away, your activities at home have a direct impact on the health of the creek.
---
Caring For The Creek We Share…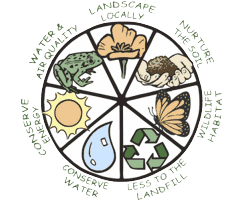 The Creek Care Guide is designed to encourage and support the ongoing stewardship of creeks in the Laguna Creek Watershed. In urbanized areas, a creek is an irreplaceable natural resource.  Whether it flows year-round or seasonally, our creeks provide water supply and groundwater recharge, habitat for a diversity of plants and animals, including birds and aquatic life, a conduit for flood waters, and wonderful trails and open space.  Our creeks offer all these benefits to our community.  The daily activities we take for granted can make a difference in the preservation of our creeks.
The Creek Care Guide includes the following topics:
How We Have Changed The Creeks
What A Healthy Creek Looks Like
Symptoms of an Ailing Creek
Everyone Can Help Protect and Restore Our Creeks